Snowshoeing
Silence, nothing but silence. Sparkling snow crystals glittering, breathing in the crisp fresh winter air and  feeling a calming sense of freedom … Snowshoeing is one of the most enjoyable activities which you can do in a snow covered winter wonderland. Snowshoeing combines physical exercise and a soothing, tranquil encounter with Nature, perfect for leaving the hustle and bustle behind.
Take a Snowshoe walk with a trained guide in the picturesque landscape of the Kitzbühel Alps.
Whether you are a Back country novice or expert – we plan a tailor-made tour for everyone.
 Snowshoeing is a nature-experience of the purest form and can be done by everyone with little effort. Besides snowshoes and poles (which can be hired from us) all you need is a backpack, a snack, (eg: approx. 1lt of tea, sandwiches, muesli bar), a second shirt to change into, sun screen and a camera.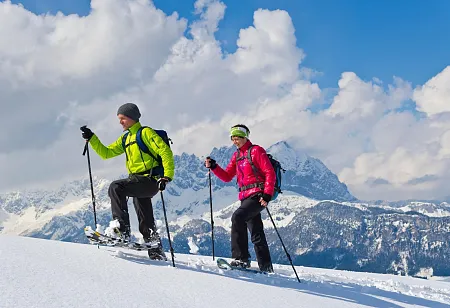 Phenomenally beautiful elevated Snowshoe hiking tour  in ideally suited terrain, with breathtaking views of the peaks of the Three Thousanders of the High Tauern Range (Hohen Tauern)  and of the entire Kitzbuehel Range.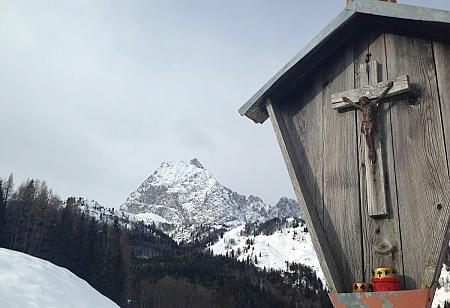 Teufelsgasse and Prost Kogel (1244m) in the Kitzbühel Alps . One of the most impressive and scenic snowshoe hikes in the Kitzbühel Alpen. The little Chapel at Hinterberg is our starting point.  Our ascent is over the Teufelgasse (the Devil's Passage) alm hut  to the mythical Devil's Passage (Teufelsgasse).